About Your Stay
at Heidelberg University Hospital
You received an appointment at University Clinic Heidelberg? Please find further information about patient rooms, menu and more below. Please do not hesitate to ask us should you have any questions. We do our best to make your stay as pleasant as possible.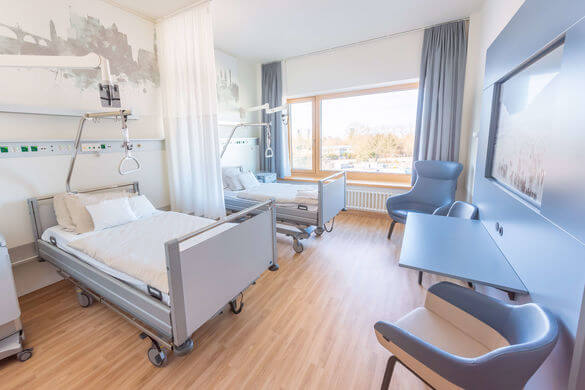 Patient rooms at Heidelberg University Hospital are without exception modern and pleasant single and double rooms. Individual accommodation requirements (single room) will be considered as far as possible by agreement with the treating department. In exceptional cases we can arrange to accomodate an escort in the patient room. The costs of this will be included in the total bill.
Comfort rooms
In addition to standard rooms, Heidelberg University Hospital offers accommodation in a comfort room (if available). These modern single and double rooms include high-quality furnishings as well as additional services for your comfort. Further information
Our patients and escorts, who are accommodated in a patient room, have the choice of three menus every day. If your state of health necessitates a special diet or if you have individual needs or customs, we would be pleased to take them into consideration. Please inform the nursing staff of your wishes at the beginning of your treatment. The service in a comfort room includes additional meal choices including halal and vegetarian options as well as additional snacks in between meals.
Free WLAN/LAN is available in all patient rooms.
Most patient rooms are eqipped with a TV. Services in a comfort room include a large flat screen as well as a bed-side terminal with a large choice of programs including SKY television.
The hospital cafeterias have newspapers in English, Russian, Arabic and German.
Christian services are held regularly in the chapels attached to the hospital. Ministers are available for discussions, if desired.
A prayer room on the hospital grounds (Head Hospital) is available for Muslim patients.
At the end of your treatment the doctor in charge of your case will compile a detailed medical report in the German or English language. This will contain information about the treatment received as well as recommendations for further medical care.