International Patients
Heidelberg University Hospital
Heidelberg University Hospital offers inpatients and outpatients an innovative and effective diagnosis and therapy for all complex diseases. Modern buildings with state-of-the-art equipment enable patients from all over Germany and many other countries to receive medical care that meets the highest international standards. The proximity and interlinking of the specialist departments benefit the patient: interdisciplinary cooperation ensures optimal treatment.
Progress and innovation are essential for promising medical treatment. Hundreds of doctors and scientists at Heidelberg University Hospital and its partner research institutes, such as the world-renowned German Cancer Research Center, pursue a common aim: the development of new forms of therapy and their quick implementation for the benefit of the patient.
All Clinical Departments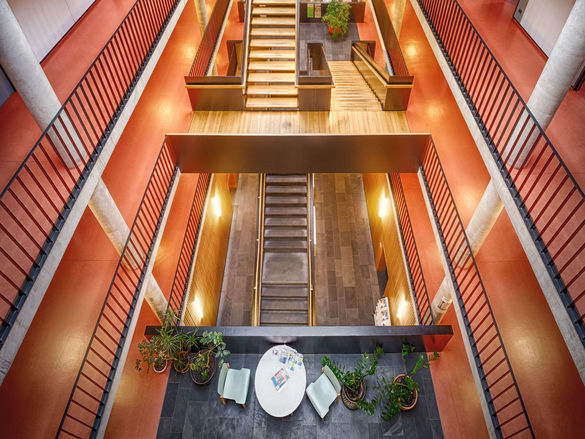 International Office
Our International Office is a special service for patients from abroad. The team of the International Office takes on the administrative support of international patients before, during and after their stay at Heidelberg University Hospital. Personal, cultural and religious needs are our top priorities. As physicians and nurses from different countries and with international experience work for us, it is often possible for us to communicate with our foreign patients in their mother tongue. If needed, we collaborate with experienced and certified interpreters.
High-end Medicine and Medical Practicioners
Benefit from interdisciplinary, latest medical knowledge and equipment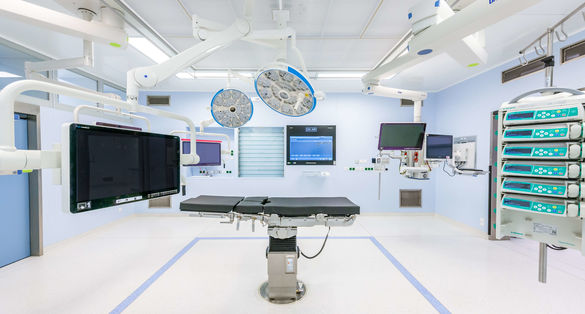 World-renowned medical professionals practice medicine at Heidelberg University Hospital, many of whom are among the leading experts in their fields internationally. All our experts have extensive experience, particularly when it comes to treating rare and severe illnesses. To ensure the most up-to-date treatments in line with the latest scientific finding, all our doctors are scientifically active, conducting research to develop new methods and improve existing methods. Our specialists are well versed with the latest techniques and have the needed expertise to employ the cutting-edge medical technology.
Your First Class Full Service
We will make your stay as pleasant as possible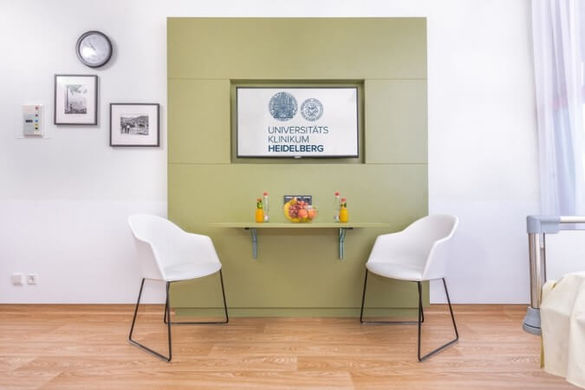 All patient rooms are modern and pleasant single and double rooms. Individual accommodation requirements (single room) will be considered as far as possible by agreement with the treating department. In exceptional cases we can arrange to accomodate an escort in the patient room. Our patients and escorts have the choice of three or more menus every day including vegetarian and halal choices. If your state of health necessitates a special diet, we would be pleased to take them into consideration. Christian services are held regularly in the chapels attached to the hospital and a prayer room on the hospital grounds is available for Muslim patients.
Medical Treatments
Heidelberg University Hospital is one of the most modern hospitals in Europe and offers almost all possible treatments for common and rare diseases. We ensure ideal conditions for cutting-edge medicine on an international level for the benefit of our patients. Each year, around 27000 patients from around the world receive treatment in Heidelberg. Below you will find a selection of our medical services and all necessary information concerning treatments. Please contact us if you have questions or if the treatment you are seeking is not listed.
1097596

outpatient cases

62498

inpatient cases

1077

patients from abroad

11606

employees including 1,886 professors and doctors

1995

clinical beds
Latest News
At Heidelberg University Hospital
Heidelberg University Hospital among the "World's Best Hospitals" in 2023

Latest News | 28.03.2023

13th in worldwide comparison

Read Article

Heidelberg University Hospital at the leading global healthcare trade fair

Latest News | 28.02.2023

Heidelberg University Hospital at Arab Health 2023

Read Article

Focus on cancer research and treatment

Latest News | 23.01.2023

Successfull cancer research and treatment in Heidelberg

Read Article
Individual treatment offer
for International Patients
For our medical specialists to check if a treatment option / appointment is possible, submit your data here.
Subscribe to our Infoletter
With our infoletter for international partners and patients, we will inform you approx. once a month about the latest news and special medical services offered by Heidelberg University Hospital via email.