Oncological Neurosurgery in Heidelberg
High precision removal of brain and spinal cord tumors
We treat (Adults and Children):
Primary brain tumors, e.g. pituitary tumors, gliomas, astrocytoma
Brain metastases
Basal skull tumors, e.g. clivus chordoma, basal skull meningioma
Tumors of the meninges, meningioma
Spinal cord tumors
Tumors of the spine, e.g. chordoma, chondrosarcoma
Brain and spinal cord tumors in children, e.g. ependymomas, medulloblastoma
State-of-the-art operative techniques
...are applied daily in our five operating theaters and individualized for patients
Computer-assisted surgical instruments (Neuronavigation systems) and modern surgical microscopes (microsurgery) are standard: Thus, the tumor can be reached and eliminated to the millimeter.
Staining of tumor tissue with fluorescent substances: The neurosurgeon can distinguish the tumor from healthy tissue
Endoscopic procedures: Without opening the skull, e.g. procedures through the nose
Awake craniotomy: For tumors in the language center, the procedure may be performed with the patient intermittently awake (pain-free), to monitor and maintain language function during tumor removal. Patients are carefully prepared for the operation by trained psychologists and cared for during the procedure.
Treatment by experienced experts and a fixed physician as contact person
On request, Prof. Unterberg or one of his most experienced deputies who specialize in the particular disease can perform the surgery for International Patients. All patients receive extensive information at the personal consultation and can ask any and all questions they have regarding treatment. Your surgeon is also available after surgery and during follow-up as medical consultant.
Neurosurgical specialist team for children with brain tumors
Specialized neurosurgeons are available for the treatment of children with tumors of the brain or spinal cord. The treatment is always performed in cooperation with the nearby Children's Hospital, and particularly with the Department of Pediatric Oncology / Section for Pediatric Brain Tumors.
For all medical specialties, the following applies:
Compassionate care for our adult and pediatric patients, who are often in a very challenging situation, is equally important to us. Our patients have confirmed our success in this over and over, and this reinforces our approach.
Unique technical diagnostic equipment before and during the operation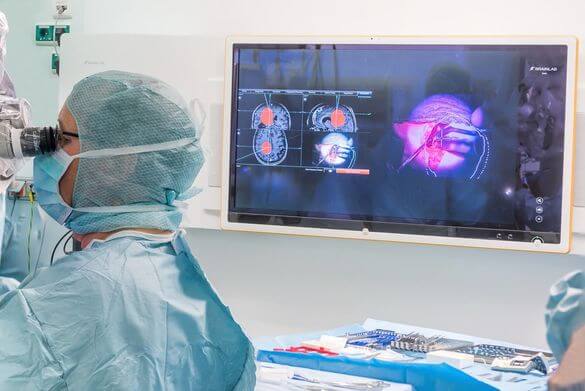 MRI (devices up to 3 Tesla)/CT diagnostics for operative preparation, including visualization of brain functions in the surrounding tumor tissue (Department of Neuroradiology)
Intraoperative MRI (1.5 Tesla)/CT: Imaging is used during the operation to check whether the tumor has been completely removed or whether further surgery is needed.
"Buzz on wall": Display of all images within one image and thus, greatest support for the surgeon and safety for the patient.
Neuromonitoring: During the operation, brain and nerve functions are continuously monitored for rapid detection and minimization of potential damage.
3200

operations per year

700

brain tumor patients

40

physicians including 17 specialists

74

beds including 14 intensive/intermediate care
After surgery - what's next?
We'll discuss with you whether further treatment is necessary. Essential decisions are all reached by an interdisciplinary expert team. In our weekly tumor boards, each patient and his/her disease is discussed individually and the optimal treatment plan developed.
The neurosurgeons standing by your side...
For me and my team, the ultimate goal is to maximize the precision of complete removal of tumor tissue while preserving the surrounding tissue. This is achieved through extensive experience gained from many thousands of operations, a highly-specialized interdisciplinary medical team, the use and development of innovative treatment techniques, state-of-the-art Equipment as well as intensive clinical research activities.
Want to learn if we offer treatment in your case?
How to arrange an appointment.
Please send us, via our international telemedicine portal:
The completed contact form with important patient information
A current medical report (in German, English, or Russian)
MRI / CT images (these should not be older than 3 months)
The written report of the radiologist from the native country
Once the information file is received in completion, the International Office will direct the request to an experienced neurosurgical expert. We will review the file within several days and inform you whether we can offer treatment at Heidelberg University Hospital Department of Neurosurgery.
Overview: All clinical departments at Heidelberg University Hospital