The European Pancreas Center
at Heidelberg University Hospital
An address recognized worldwide for patients with pancreatic diseases
The European Pancreas Center in Heidelberg is one of the leading institutions for the diagnosis and treatment of pancreatic diseases, particularly for pancreatic cancer. Professor Dr. Markus W. Büchler, a renowned specialist in the field of pancreas surgery, has assembled an interdisciplinary and highly qualified team that treats over 2,000 patients per year. Of these, more than 700 patients per year undergo pancreas surgery.
Our therapeutic specializations
Pancreatic Cancer
Acute Pancreatitis: acute inflammation of the pancreas
Chronic Pancreatitis: persistent or recurring inflammation of the pancreas
Pancreatic Neuroendocrine Tumors (pancreatic NETs or PNETs)
Cystic Pancreatic Tumors
IPMN: Intraductal Papillary Mucinous Neoplasm
Prof. Büchler
a globally recognized specialist of pancreas surgery
More than 30 book titles authored
More than 2000 publications in MedLine
More than 60 000 citations by other scientists
For a full list of publications see https://pubmed.ncbi.nlm.nih.gov/ and search for "Buchler M"
Our own research enables unique therapies for pancreatic cancer
As part of an international network as well through our own research, we always work according to the most current international scientific knowledge. In this way, we can offer our patients the newest treatment options immediately and within studies that are otherwise not yet available.
These studies are offered together with the National Center for Tumor Diseases (NCT) of Heidelberg University Hospital. We optimize the conditions for operative treatment of pancreatic cancer using the latest medications. Neoadjuvant therapy (chemotherapy prior to surgery, sometimes in combination with radiation) often makes it possible to perform surgery even for advanced tumors.
What distinguishes us
Large team of specialist physicians under one roof
State of the art technical equipment
Ample experience with more than 2000 patients per year
High patient survival rates on statistical comparison
Few complications
Good oncological course
The following experts are available to our patients:
Surgeons: Standard operations, when possible minimally-invasive and robot-assisted (Intuitive Surgical TM da Vinci Xi ©), with condition-specific adaptation, self-developed and international study-approved operative techniques, and also multi-organ resections, are part of our general clinical practice.
Oncologists: implementation of the most current therapeutic concepts.
Radio-oncologists: Radiation therapists at Heidelberg offer proton / heavy ion therapy as well as high-precision radiotherapy with conventional photons.
Radiologists: Imaging with advanced technology.
Endoscopy Specialists
Specialized Gastroenterologists
Pain Therapists: Modern procedures enable maximum pain reduction after surgery.
A dedicated and well-trained nursing staff
Specialized Psycho-oncologists, Physical Therapists, and Nutritionists
Our facilities
We offer more than 300 surgical beds and state of the art technology.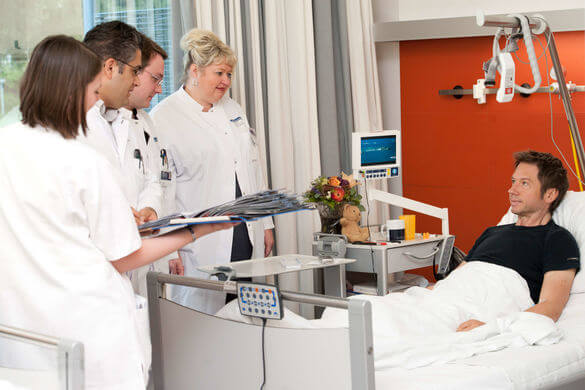 The Department of Surgery at Heidelberg University Hospital has more than 300 beds in normal, recovery, and intensive care units. Our 16 operating rooms are equipped with state of the art technology, including hybrid operating rooms and operating room robots.
If surgery can be performed as an outpatient procedure from a medical point of view, a day clinic is also available for our patients. Patients treated here can take advantage of all hospital facilities, but do not need to stay overnight in the hospital: instead, for example, with family at a hotel.
Interdisciplinary Expert Team
Our physicians are highly qualified and experienced.
At the European Pancreas Center Heidelberg, a large team of specialists works together under one roof. This has many advantages for our patients: short waiting times, short travel distances, rapid assurance, and best treatment results. They benefit from the expertise of various specialists, because each individual case is discussed with the team--from diagnosis to surgery, intensive care, conservative management, nutritional counseling and social work.
Our service: We will be happy to advise you via Internet or telephone!
For us, it is a matter of course to support you with our opinion and knowledge whether you have an established or firmly suspected diagnosis. Because of course, you are looking for the best treatment option for yourself or your loved ones.
For interested parties who are unable to come to Heidelberg for an initial introduction, we offer either Internet or Telephone Consultations. At the moment, approximately 500 patients per month contact us in this manner. About 20 percent of requests come from abroad.
If you would like to make an appointment with us at the European Pancreas Center, you will find further information here or you can call us at +49 (0) 6221 56 6202.
Outstanding surgical expertise, continuous development of surgical techniques, and well-above-average experience lead to good results. Patients with pancreatic cancer treated in Heidelberg have comparatively fewer complications and good treatment course.
Overview: All clinical departments at Heidelberg University Hospital