Modern furnished double rooms and an optimized food service
at Heidelberg University Hospital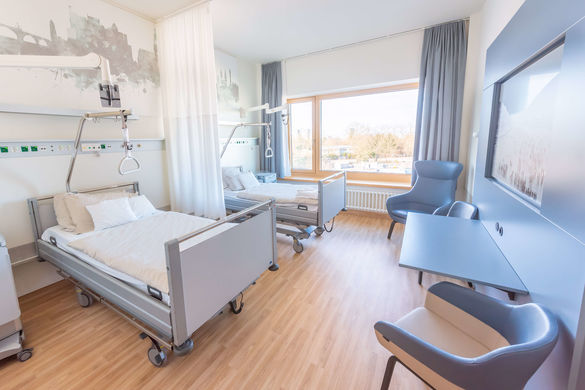 Modern furnished double rooms and an optimized food service provides a pleasant environment for patients in recovery.
In the new surgical center, medical care at the highest level and a pleasant working and recovery environment are not mutually exclusive: For patients and their visitors, this is mainly noticeable in the bright and modern furnished double rooms, attractive lounges and a clear orientation system. For doctors, nursing and service staff, this is reflected in optimized processes, short distances and work facilitation thanks to good ideas and well-thought-out equipment.
Patient rooms
Patients are accommodated in pleasant single (if available) or double rooms with their own bathroom. Patient rooms are bright and comfortably furnished, have panoramic windows with wood panelling and a bench. Two rooms per ward are also equipped as so-called adipositas rooms especially for the care and nursing of severely overweight patients. Among other things, they are larger and have lifting devices above the beds.
Lounges
At the front of the wards, bright lounges with a view of the landscaped outdoor facilities invite you to sit together with relatives and visitors.
Food Service
at Heidelberg Universtiy Hospital
The food service in the new building is also controlled in a different way than before, namely decentralized. The lunches are prepared ready to eat directly on the ward in convection ovens, heated and freshly prepared. The patients' menu wishes are taken up in the morning by service staff. As with breakfast, which is served on a buffet trolley, this allows for a better individual response to patients' wishes and diet plans.