Breast Cancer Center
Personal Care by Experienced Specialists at the Center for Breast Cancer Treatment in Germany
More than 1200 sick women trust the team and receive treatment at the Breast Center of Heidelberg University Hospital, the largest center of its kind in Germany. Our specialist team develops an individual treatment plan for each patient offering the best possible and most gentle therapy. The success can be measured: of all women with breast cancer treated here, more than 80% survive past 10 years. Our certified center of excellence is also a focal point for clinical studies reaching well beyond Heidelberg.
Our Treatment Focuses on
Breast cancer diseases, especially breast cancer (breast carcinoma)

Breast cancer diagnosis: Initial diagnosis
Second opinion and consultation regarding breast diseases, particularly breast Cancer
Modern Breast Surgery:

breast-sparing surgery as well as
breast reconstruction using autologous patient tissue
The decisive factor for survival
We find the optimal route to treatment
What distinguishes us as a competent and reliable partner? What does our hospital do to offer the best possible treatment for breast cancer? The most important arguments for treatment in Heidelberg:
The certified Breast Center is integrated with the National Center for Tumor Diseases. The combination of research and treatment enables us today to apply new and promising medications, still denied at many other hospital, within clinical studies. Thus, our patients have higher life expectancies with shorter hospital stays.
Thanks to the most modern technology, we can offer highly precise diagnostics and develop a very focused treatment plan.
We generally determine the aggressiveness of the cancer prior to an operation. Initial chemotherapy is also usually given before surgery - it shrinks the tumor and reduces the risk of spread.
Whenever the disease permits, we operate with minimally-invasive techniques. Above all, for our patients this means less pain from the wound, and fewer scars.
When possible, we perform breast-sparing surgery. Should it be necessary to remove the breast (mastectomy), many breast reconstruction options are available.
We do not perform maximal-radical surgery. We specifically dye the sentinel nodes of the lymphatic system using a special process, and can see whether and which lymph nodes are already affected by cancer. Only the affected nodes are then removed, and the others are preserved.
Our Treatment Concepts
Medical Therapy and Surgery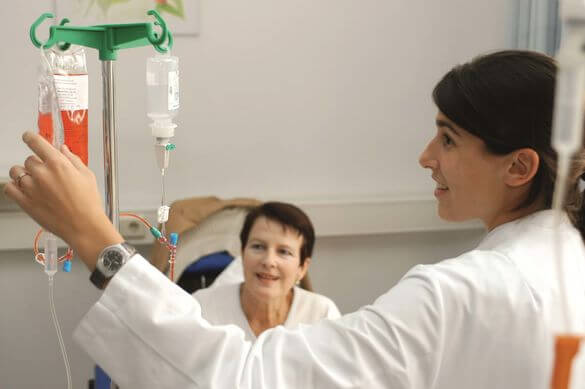 The treatment for every woman with invasive breast cancer rests on two pillars - surgery/radiation and systemic treatment with chemotherapy, hormone therapy, or antibody therapy. The importance of systemic therapy has increased considerably in recent years. We treat 30 to 40 percent of patients systemically prior to surgery today.
Using predictive tests, we consider how effective a particular therapy will be for each patient and decide together the best treatment strategy. We make our decision above all considering maximal effectiveness, minimal side effects and best possible quality of life for each individual.
Our Tumor Boards
Treatment Concepts and Interdisciplinary Case Conferences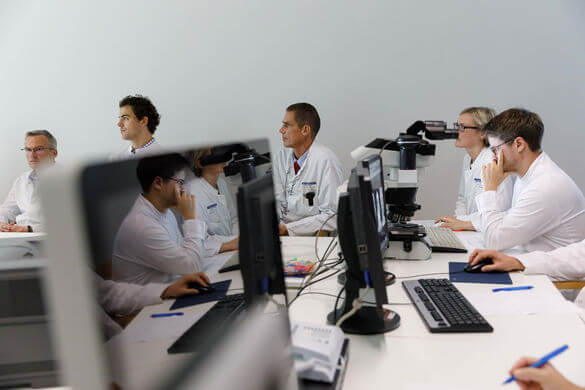 If the findings are positive, our interdisciplinary medical team discusses the diagnostic and pathologic results in the tumor board. In a conference usually comprised of around ten experts, each patient is individually introduced with all diagnostic findings. The Executive Medical Director of the University Women's Hospital stressed the importance of these conferences:
Experienced experts from the fields of diagnostic, operative, and systemic therapies as well as pathology and radiation therapy are always present at the tumor conferences. The results will be put in writing and discussed with the patient. We have more than 700 new patients per year. In this way, we identify the optimal treatment process, and this is a key determinant for survival.
Our treatment approaches include:
Breast-sparing surgery with subsequent radiation therapy
Mastectomy with and without breast reconstruction
Various systemic therapies such as:
Chemotherapy
Endocrine or hormone therapy
Antibody therapy
Immunotherapy
Experimental therapy in studies, after extensive clarification.
The following case conferences / tumor boards are standard in Heidelberg
Pre-Treatment Conference: Once all necessary diagnostic findings and results are available, our specialist team develops a treatment recommendation, such as chemotherapy or breast-sparing surgery with complex oncoplastic reconstruction or mastectomy with subsequent radiation.
Post-Operative Pathology-Radiology Correlation Conference: After each operation we will evaluate and discuss pathologic, surgical, and imaging results together. In this way, we ensure quality of operative treatment.
Post-Operative Conference: Our team develops all further treatment recommendations after surgery, for example radiation, chemotherapy, anti-hormone therapy or antibody therapy.
Breast Cancer Operations
Breast-Sparing Surgery or Breast Reconstruction with Autologous Tissue
When possible, we perform breast-sparing surgery. Sometimes complete removal of the breast (mastectomy) is necessary for an optimal chance of cure. The goal is a good optical result along with removal of the tumor. Our hospital offers an experienced expert team for plastic breast reconstruction that can restore an aesthetically good result. This is often very meaningful to patients and we attach great importance to it. For breast reconstruction, we offer various approaches:
Rebuilding with autologous tissue

Advancement flaps
Flap Surgery

State of the art prostheses
State of the Art Assessment and Short Waiting Times in our Breast Center
Our team knows the fears that accompany a breast cancer diagnosis. For this reason, we attach great worth to avoiding waiting times, and strive for the most rapid diagnosis possible. Many tumors have not yet been optimally diagnosed. With us, you will receive a complete assessment for absolute certainty: whether for regional diagnosis or staging examinations, we offer assessments with the latest technologies:
Digital mammography
High-resolution ultrasound
High-resolution magnetic resonance imaging (MRI)
Tissue samples by punch and vacuum punch biopsy
OVERVIEW: ALL CLINICAL DEPARTMENTS AT HEIDELBERG UNIVERSITY HOSPITAL