Heidelberg University Hospital
About Us
More than six hundred years ago, the first German university was founded in Heidelberg. Today, it attracts international acclaim for its life sciences – especially for medicine. As one of Europe's largest and most modern medical centers, Heidelberg University Hospital's 43 specialist departments offer medical care of the highest international standards in all areas of specialty with a focus on oncology care and on other diseases that require complex treatments. Heidelberg University Hospital's active collaboration with national research facilities attracts patients from many countries worldwide.
1100000

outpatient cases

62000

inpatient cases

43

clinical specialist departments
More facts & figures about Heidelberg University Hospital (2021)
Outstanding competence in cancer treatment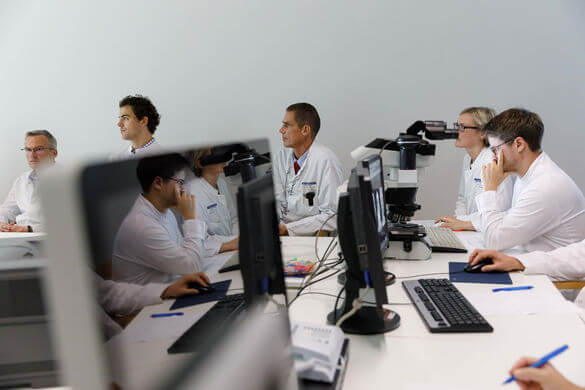 The National Center for Tumor Diseases (NCT) Heidelberg is a joint institution of the German Cancer Research Center, Heidelberg University Hospital (UKHD) and German Cancer Aid. The National Center for Tumor Diseases (NCT) is a leading oncological center of excellence, where specialists of various medical fields work together under one roof to find the optimal course of treatment for each cancer patient. A good 100 years ago, Vincenz Czerny founded a cancer research institute in Heidelberg. In 1964, this became the renowned German Cancer Research Center (DKFZ). Today, the close collaboration between Heidelberg University Hospital and the German Cancer Research Center in research and patient care at the National Center for Tumor Diseases ensures that new therapeutic approaches are developed and rapidly put into practice.
Surgical oncology as well as radio-oncology are integral parts in cancer treatment as well. Heidelberg physicians work with state-of-the-art equipment (including robot-assisted surgery) and are highly experienced. For example, the European Pancreas Center at Heidelberg University Hospital is one of the world's leading centers for pancreatic cancer.
The Heidelberg Ion Beam Therapy Centre (HIT), a unique facility in Europe, is the first in Europe to use both protons and heavy ions. Children and patients with certain tumors of the prostate, lungs and liver can be effectively treated here. This new form of radiation can for the first time benefit a larger number of patients with previously incurable tumors.
Medical Research
for the benefit of patients
Progress and innovation are essential for promising medical treatment. Hundreds of doctors and scientists at Heidelberg University Hospital and its partner research institutes, such as the world-renowned German Cancer Research Center located in Close proximity to the Hospital campus, pursue a common aim: the development of new forms of therapy and their quick implementation for the benefit of the patient.
Medicine of the highest standard
World renowned physicians, modern buildings with state-of-the-art equipment, as well as the proximity and interlinking of the specialist departments directly benefit our patients. Outstanding physicians and researchers, among them nobel prize winners have worked in Research Facilities in Heidelberg. Many thousands of patients from all over Germany and over 100 countries worldwide travel to Heidelberg for treatment.
Medical Campus Heidelberg
A Modern campus with interlinked expertise
The Heidelberg Medical Campus is one of the most modern medical complexes in Europe. More than 40 specialist departments organized in 14 hospital buildings are connected by underground infrastructure for supply and transport structures. This ensures short distances and bundles most medical specialties within a radius of two kilometers. Since 2004, the goal of a compact campus is being achieved by new, modern buildings on campus:
2004: New Hospital for Internal Medicine
2008: New Children's Hospital
2013: New Hospital for Gynecology and Dermatology
2018: New Building for infectious diseases
2020: New Surgery Center
2025 (planned): New heart center, where cardiology, heart surgery and pediatric cardiology will be united under one roof and which will set new national standards.
The hospital is located approx. 45 minutes from Frankfurt International Airport.
Impressions of Heidelberg University Hospital