Endoprosthetics
Department of Orthopedics at Heidelberg University Hospital
In our endoprosthetics division, we supply more than 1,000 patients each year with artificial knee and hip joints. Our experienced surgical staff can restore function and mobility by implanting an endoprosthesis.
Depending on your personal situation and diagnosis, various implants, anchoring methods, and surgical techniques are available. We take the time to discuss all the details of these options with you. Based upon our extensive surgical experience, attention to testing for surgical indications, and thorough post-operative care, excellent long term results of 15 years or more can be expected; over 90 percent of our patients are able to move again without pain after their surgical treatment.
Excellent surgical techniques, well-tolerated materials, and specialized physicians also help minimize the risks of surgery. In addition, we plan each surgery on an individualized basis, and with great care.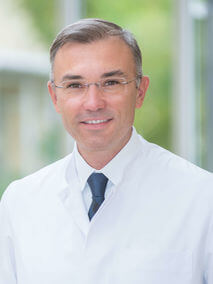 Univ.-Prof. Dr. med. habil. Tobias Renkawitz
Medical Director Department of Orthopaedics and Trauma Surgery.
Senior surgeon and specialist for total hip and knee replacement.
Focus on minimally invasive, computer assisted and "fast track" surgery with high precision, less pain and decreased rec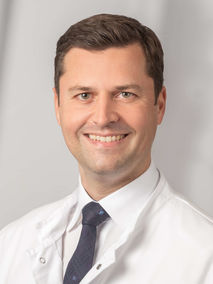 Prof. Dr. med. Christian Merle, M.Sc.
Consultant Orthopaedic Surgeon for hip and knee replacement.
Specialist and international instructor for unicondylar total knee replacement.
We specialize in
artificial knee joints
and artificial hip joints.
Overview: All Clinical Departments at Heidelberg University Hospital
Overview of Departments: Diseases / Injuries of the Musculoskeletal System: