Center for Gynecological Oncology
Interdisciplinary, highly specialized treatment based on the latest research
Combining the expertise of leading specialists in various disciplines under one roof - this distinguishes treatment at the Center for Gynecological Oncology. The Heidelberg team of experts assembled around Prof. Sohn, Medical Director of the University Women's Hospital, develops the optimal individual therapy concept for patients with various diseases including cervical and ovarian cancer. As part of the National Center for Tumor Diseases (NCT), our patients have the most rapid access possible to the latest scientific findings in the form of pioneering clinical studies. One particular focus of the center is minimally-invasive surgical procedures.
We specialize particularly in the diagnosis and treatment of
Ovarian cancer (ovarian carcinoma)
Cervical cancer (cervical carcinoma)
Uterine cancer (Endometrial carcinoma)
Cancers of the vagina and the external genitalia (vulvar and vaginal carcinoma)
Pre-cancerous lesions of the ovaries, uterus, and vagina (dysplasia)
What characterizes us
At a glance
Integration of a large number of our patients into current studies and the opportunity for new, promising therapies
Higher life expectancy of our patients versus those of other hospitals, through interdisciplinary cooperation of our experienced specialist teams
Less traumatic interventions: We specialize in minimally-invasive surgical procedures
Large hospital team with highly specialized medical and nursing staff, yet a personal atmosphere
High precision: Using guard node technology, we pinpoint affected lymph nodes and remove only those with actual involvement
Among our physicians and nurses are English and Russian speakers
Short waiting times, so that rapid treatment can be carried out
Our range of services for gynecological malignancies
In addition to medical treatment, we also offer our patients cosmetic courses, music therapy, psychological care, gymnastics, relaxation courses, and much more.
An experienced team of specialists for the diagnosis and successful treatment
Cervical cancer, ovarian cancer, uterine cancer, and other tumors
Successful treatment of gynecological tumors requires intensive, well-developed cooperation of an interdisciplinary medical and nursing team, such as in Heidelberg. In addition to the treating physicians with extensive experience treating gynecological tumors, our team consists of ultrasound specialists, radiologists specializing in MRI, oncologists with particular orientation towards medical therapies, surgeons, internists, urologists, radiation therapists, pathologists, nuclear medicine physicians, psycho-oncologists as well as a social worker. In addition, each of our patients is personally assigned a pelvic care nurse, who accompanies and supports them during their hospital stay.
Our Expertise: Minimally-Invasive Surgical Procedures
Our team has particular experience with minimally-invasive surgery for genital tumors. These interventions are less traumatic, leave small scars, have fewer side effects, and in our case are as successful as traditional operations.
Most of our patients can be operated with minimally-invasive techniques. The removal of lymph nodes of the pelvis and along the major vessels are carried out laparoscopically - using keyhole surgery. For patients in whom multiple organs are affected by the tumor, our specially trained physicians operate together with designated experts in general surgery and urology according to the situation. For all operative interventions, four modern equipped operating rooms are available as well as an ambulatory surgery center.
Tumor Board
Our interdisciplinary medical team meets to discuss the most promising treatment for each patient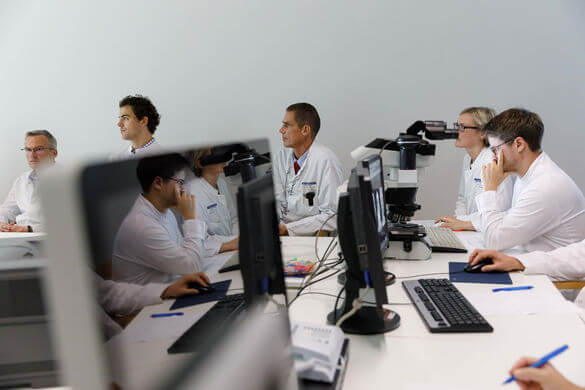 Which treatment is particularly promising for each individual case? Our doctors decide together in the Tumor Board. They follow treatment pathways or approaches developed as "SOP"s (standard operating procedures) according to internationally valid guidelines. Our criteria for your personal therapy recommendations are based mainly on the best possible effectiveness for you as an individual, combined with the desire for the fewest possible side effects and thus, the best possible quality of life. The following three tumor boards are our standard:
Pre-Therapy Conference: Development of a therapy recommendation, such as surgery and/or chemotherapy, radiation.
Post-Operative Pathology-Radiology Correlation Conference: takes place after each procedure. Discussion and evaluation of pathologic, operative, and imaging findings
Post-Operative Conference: Development of further therapy recommendations after surgery, for example chemotherapy, radiation therapy, anti-hormone therapy or antibody therapy.
Excellent networked with the best in Germany
In our Center for Gynecological Oncology, we bring together all medical specialists of Heidelberg University Hospital. We network closely with other centers such as the National Center for Tumor Diseases Heidelberg (NCT), a joint institution of Heidelberg University Hospital, the German Cancer Research Center and the Thoraxklinik Heidelberg with support from German Cancer Aid. Thus, we offer our patients interdisciplinary patient care and cancer research under one roof - all under the direction of our hospital.
Diagnostic gynecological oncology with the most modern methods
We diagnose according to current research and with the most modern equipment and methods. Many of our international patients come to us with a diagnosis but desiring a second opinion. We perform the following diagnostic methods:
Cytologic assessment
Histological assessment
Molecular assessment
Colposcopy as well as
All relevant imaging procedures
High-resolution ultrasound
High-resolution magnetic resonance imaging (MRI)
Overview: All Clinical Departments at Heidelberg University Hospital