Highest Quality in Procedures on the Stomach and Esophagus
15.05.2019
The Department of Surgery is one of three centers in Germany certified as a Center of Excellence in the care of Gastroesophageal Surgery. Cancer patients in particular profit from interdisciplinary therapy concepts.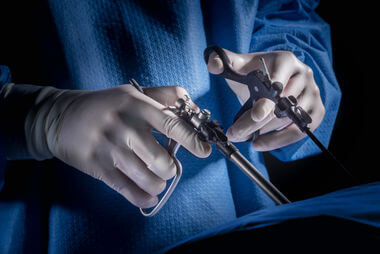 Annually, more than 250 patients undergo surgery to the stomach and esophagus at Heidelberg Department of Surgery. The German Society for General and Visceral Surgery (DGAV) has recognized the Department of General, Visceral and Transplant Surgery at Heidelberg as a "Center of Excellence for Gastroesophageal Surgery" for its outstanding quality of care and expertise in this area. Aside from the treatment spectrum with a minimum number of patients, the most important criteria for certification include very complex procedures, high quality standards, experience of the medical team, technical facilities, interdisciplinary networking particularly in cancer therapy, comprehensive continuing education, and groundbreaking research. High standards are applied not only to surgical procedures themselves, but to the entire treatment course from imaging and diagnostic endoscopy to pain therapy after surgery.
Recognition as a center of excellence is the highest level of DGAV certification and is reserved for the largest and leading specialty facilities. This is the third similar award for the Department of Surgery, with Center of Excellence certifications also for liver and minimally invasive surgery.
Interdisciplinary Treatment Strategies Enable Removal of the Most Difficult Tumors
With over 100 patients operated annually for stomach or esophageal cancer, surgical oncology is a focus of the newly certified Center of Excellence. Optimal combination of surgery, chemotherapy and radiation therapy is extremely important for treatment success, and is thus a criterion used for certification. This is guaranteed through cooperation with the National Center for Tumor Diseases (NCT). In joint case discussions, experts from different specialties develop a customized treatment concept for individual patients. "Thanks to jointly developed strategies, with interdisciplinary therapy, we are sometimes even able to remove tumors completely that would previously have been considered inoperable," reports Professor Dr. Markus Diener, who heads the Section of Gastroesophageal Surgery of the Department of Surgery.
Higher Proportion of Minimally Invasive Procedures
In addition, Heidelberg patients benefit from the expertise in minimally invasive surgery, which the DGAV has also certified as a Center of Excellence. "In about half of patients with esophageal cancer today, the tumor can be removed using minimally invasive techniques - using special instruments and through a small incision," says Prof. Dr. Beat Müller, who heads the section of Minimally Invasive Surgery in the Department of Surgery. "Removal of gastric tumors can also generally be performed using minimally invasive techniques. However, studies are still needed to identify the conditions under which patients are more likely to benefit from open versus minimally invasive procedures."
Further information
National Center for Tumod Diseases