All pediatric specialty departments combined under one roof
15.01.2020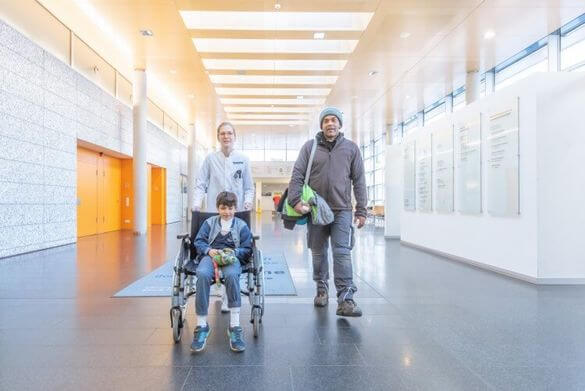 All pediatric specialty departments combined under one roof - this goal has now been achieved at Heidelberg University Hospital. In January 2020, the Department of Paediatric Surgery also moved from the "Old" Surgical Hospital to the Center for Child and Adolescent Medicine (Im Neuenheimer Feld 430). A pre-requisite for the move was the expansion of the Children's Hospital by around 1000 square metres, which began in 2016 and was completed in 2018. "Thanks to the generous financing of the construction costs and initial equipment by the Dietmar Hopp Foundation amounting to twelve million euros, an integrated center for conservative and operative pediatric medicine in modern rooms has been created in Heidelberg," summarizes Prof. Dr. Georg F. Hoffmann, Medical Director of the Center for Child and Adolescent Medicine.
Interdisciplinary exchange and short distances
For the young patients and their parents, as well as for pediatric surgeons and nursing staff, the change of location brings many advantages. "Various medical disciplines now working under one roof makes it possible to exchange information quickly across disciplines," says Prof. Patrick Günther, Chief Physician of Pediatric Surgery. Especially in pediatric and adolescent emergencies, where those affected cannot always describe what is bothering them, a quick and comprehensive view from different specialists can be of great importance. Pediatric surgery is a section of the Surgical Clinic (Spokesperson Prof. Dr. M. W. Büchler), even though the pediatric surgeons have their offices in the Children's Hospital now.
"Seriously ill patients, premature and newborn babies and patients with complex operations, who require post-operative care in the intensive care unit will benefit from pediatric medicine under one roof. Up to now, in these cases, patients have been transferred to the respective intensive care unit of the Children's Hospital by means of patient transport after the operation. This additional stressful transport between the two hospitals is now no longer necessary," says Patrick Günther.
The new pediatric surgery ward, which offers significantly more comfort, has 18 beds.