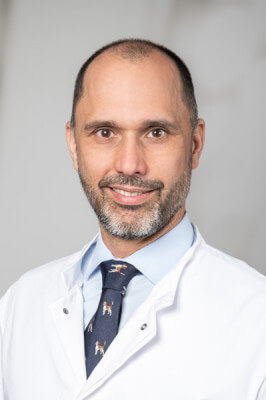 New Medical Director at the Clinic for Gynecology and Obstetrics
Dr. Oliver Zivanovic is a specialist in gynecological oncology and tumor surgery. For his new assignment at Heidelberg University Hospital, he returned to Germany after many years of medical and scientific activity in New York, USA. Dr. Zivanovic will continue his research into the early detection of ovarian cancer with national and international partners. Heidelberg University Women's Hospital will thus establish itself as a new center for the treatment of patients with ovarian cancer.
The Department of Gynecology and Obstetrics together with the Department of Gynecological Endocrinology and Fertility Disorders form the Heidelberg University Women's Hospital. In addition to the areas of gynecology and obstetrics with prenatal diagnostics in close cooperation with the National Center for Tumor Diseases (NCT) Heidelberg, it includes the department of gynecological oncology with a breast center and a center for gynecological cancers.
Treatments for infertility, the diagnosis and treatment of the unborn child and obstetrical care are performed with great care at Heidelberg University Hospital. For patients with non-malignant and malignant diseases the full spectrum of modern treatment options is available.