Opening the new Surgery Center at Heidelberg University Hospital
Surgery of the Future at Heidelberg University Hospital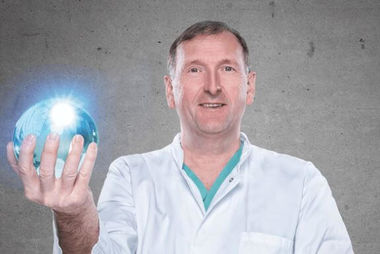 "Surgery of the future means more safety for our patients and much better chances of recovery from malignant diseases", says Prof. Dr. Dr. H.c. Markus w. Büchler, spokesperson of the Surgical Center and Medical Director of the Department of General, Visceral and Transplantation Surgery.
The new surgical Center at Heidelberg University Hospital with a total construction cost of around 210 million euros was the largest construction project in both the state of Baden-Württemberg and Heidelberg University Hospital in the past six years.
In October 2020, medical operations began in the new building of the Surgical Center. "The "new" surgery center is setting standards across Europe, especially when it comes to technical equipment. "Modern medical technology, new software solutions, digital networking and the well-planned infrastructure will enable patient care and professional work processes at the highest level," says the director Prof. Dr. Dr. Markus w. Büchler.
The surgery center accommodates the departments for general, visceral and transplant surgery, cardiac surgery, vascular surgery, urology, anesthesiology and radiology. "The new building is another important step in the completion of the project "Heidelberg Clinic Ring", which began in 1987. This unique ring structure enables patient care within short distances and fruitful exchange in clinics, research and teaching." said Professor Dr. Ingo Autenrieth, Senior Medical Director and Chairman of the Board of Management of Heidelberg University Hospital.
New surgical Center at Heidelberg University Hospital
New Surgery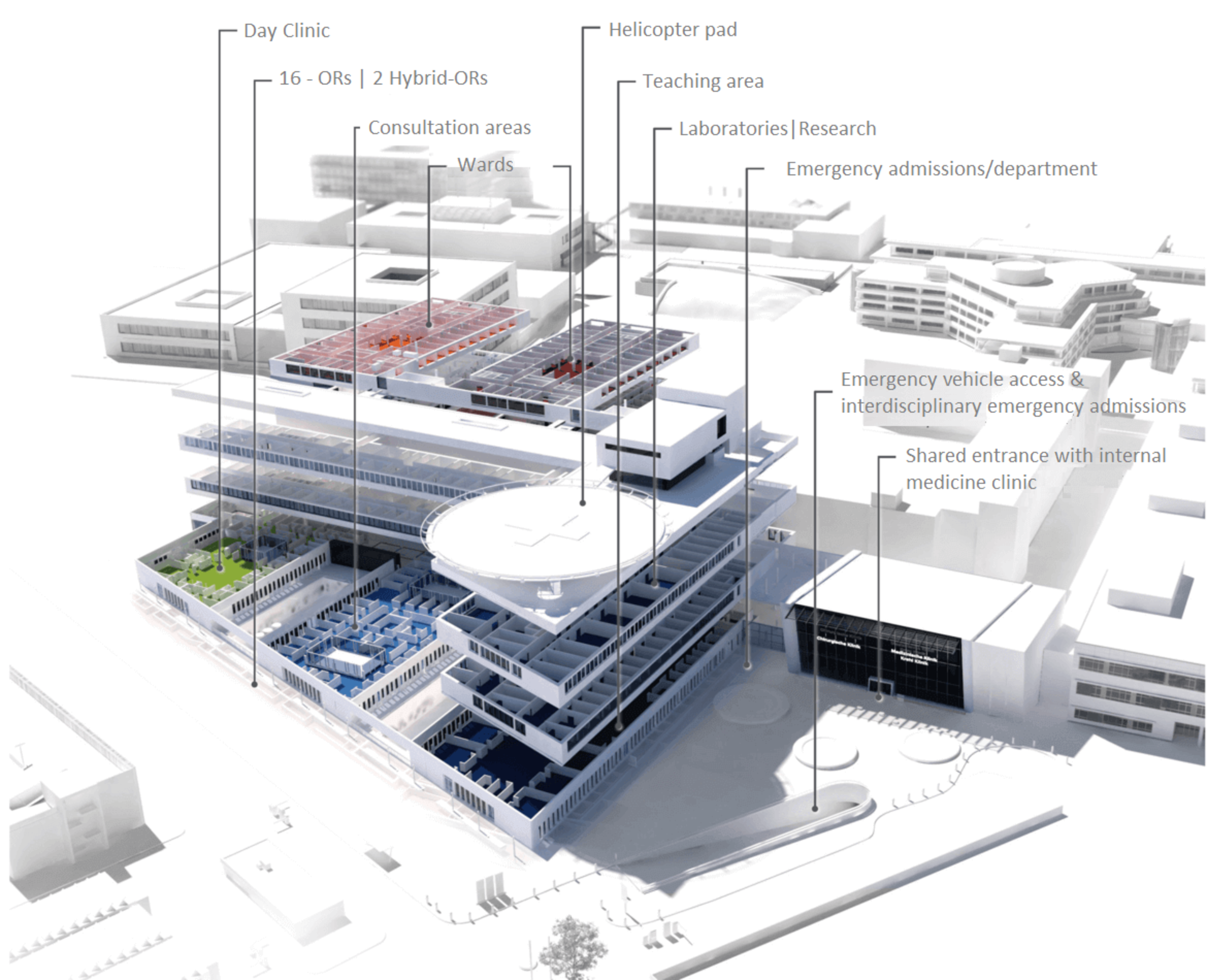 Highlights of the new surgery hospital
Building Highlighhts
The core of the new building is the operating wing with 16 operating rooms, which will be digitally embedded in the clinic's medical and IT landscape.
Six operating rooms are equipped with integrated endoscopy systems and two operating rooms as hybrid operating rooms with robot-assisted angiography systems.
There will also be an outpatient operating area, a day clinic, radiological functional diagnostics and outpatient departments.
The helicopter landing platform on the roof is of central importance for the entire hospital.
A new lecture hall with 196 seats and seven seminar rooms are available for research and teaching on an area of around 900 square meters.
In addition to the five normal nursing wards with 36 beds each, there are two intensive and two intermediate care wards with each a maximum of 28 beds and a station for elective medical services with 21 beds. Thus, a total of 313 beds.
Technology Highlighhts
Around 6,000 medical devices are in use, most of them were newly acquired.
In the new, centrally located emergency room connected to the operating area, important information on emergency patients is transmitted directly from the emergency services, recorded centrally and continuously updated and displayed on large screens.
A "Fast Track Computed Tomograph (CT)" is integrated here. Vital signs can be recorded centrally via patient monitoring and retrieved at any time when changing the ward.
In the two hybrid operating rooms, both open and minimally invasive vascular surgery can be performed.
The operating area is fully digitized and networked, robot-assisted imaging techniques and a 3-Tesla Magnetic Resonance Tomograph (MRT) are available.
Impressions of the new building of the new surgical center