National Center for Tumor Diseases (NCT) Heidelberg: Comprehensive Cancer Center of Excellence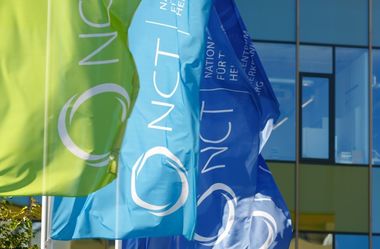 The German Cancer Aid is funding the National Center for Tumor Diseases (NCT) Heidelberg as a Comprehensive Cancer Center for the fourth time in succession. This involves financial support of 950,000 euros annually for a period of four years. The decision is based on the assessment of an international expert committee, which confirms that the NCT Heidelberg provides interdisciplinary care for cancer patients at the highest level and is constantly developing cancer research and medicine.
In total, the German Cancer Aid supports 15 Comprehensive Cancer centers in Germany. The initiative pursues the goal of constantly improving cancer medicine nationwide and bringing it to an ever higher level.
Dirk Jäger, Managing Director at the NCT Heidelberg as well as Head of Medical Oncology at Heidelberg University Hospital and Head of the Clinical Cooperation Unit Applied Tumor Immunity at the German Cancer Research Center (DKFZ), says delighted: "The fact that we have once again been honored and promoted as Comprehensive Cancer Center means great appreciation for our joint work at the NCT Heidelberg. We are particularly motivated by this to continue on our path to ever better treatment strategies for the benefit of our patients."
Ingo B. Autenrieth, Chief Medical Director of Heidelberg University Hospital, explains: "The best possible treatment of patients in oncology succeeds with interdisciplinary care structures combined with outstanding specialist expertise in all fields and close links to current research. We are very pleased that German Cancer Aid has once again recognized the NCT Heidelberg with its sponsors, the Heidelberg University Hospital and the German Cancer Research center (DKFZ), for their joint achievements in the fight against cancer."
The National Center for Tumor Diseases (NCT) Heidelberg
The National Center for Tumor Diseases (NCT) Heidelberg is a joint institution of the German Cancer Research Center (DKFZ), Heidelberg University Hospital and German Cancer Aid (DKH). It combines patient care and patient-related research under one roof. At the NCT Heidelberg, the German Cancer Research Center and the Heidelberg University Hospital join forces for the benefit of patients. Patients with cancer receive therapy that is in line with the latest state of knowledge. Physicians and scientists from many disciplines work side by side to rapidly translate scientific findings into clinical applications, pursuing the NCT's fundamental idea: Together against cancer - with people at the center.
We treat all types of cancer
Colorectal cancer
Skin cancer/tumors
Head and neck tumors
Liver/Gall tumors
Gastric/Esophageal cancer
Neuroendocrine tumors
Tumors of unknown primary (CUP)
Rare tumors
Special information on the treatment of children with cancer can be found here
Overview of available therapies
Our specialists have all conventional and many innovative therapy methods at their disposal - making it possible to offer every patient the best possible therapy combination:
Surgical expertise
Stem cell transplantation
Drug therapies
Nuclear medicine
Radiation Therapy
Interventional Therapy
Video: World Class Oncology at Heidelberg University Hospital
Individual treatment offer
for International Patients
For our medical specialists to check if a treatment option / appointment is possible, submit your data here.
Subscribe to our Infoletter
With our infoletter for international partners and patients, we will inform you once a month about the latest news and special medical services offered by Heidelberg University Hospital via email.