Heidelberg University Hospital ranked 13th among the "World's Best Hospitals" 2023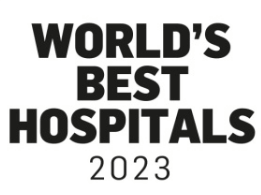 Heidelberg University Hospital has once again been named one of the best hospitals in the world by the US magazine "Newsweek". In the fifth edition of the "World's Best Hospitals" ranking, which was compiled in cooperation between "Newsweek" and the statistics and data platform "Statista," it ranked 13th in a global comparison. The improvement by three places (16th place last year) confirms Heidelberg University Hospital's efforts to provide the best possible medical care in all areas. In Germany, Heidelberg University Hospital ranks second.
The evaluation is based on assessments by healthcare experts, patient surveys, and key performance indicators of the hospitals, such as data on the quality of treatment and hygiene measures. Hospitals from 28 countries were compared in the ranking, including not only Germany but also the United States, Canada, England, Japan and Switzerland. A total of around 2,300 hospitals worldwide are included in the comparison.
The goal of the study is to provide a data-driven comparison of the reputation and performance of hospitals in different countries to guide patients and families seeking the best medical care.
Highest international standards
For Heidelberg University Hospital, this international recognition is a great achievement. The foundations of this success include among others:
Highest international standards in all areas, which are guaranteed by renowned professors, distinguished physicians and committed nursing staff
Active collaboration with national and international research facilities (e.g. the German Cancer Research Center)
Ability and drive to continuous innovation for promising medical treatment of complex diseases
Comprehensive interdisciplinary diagnostic and therapy through close cooperation of the relevant medical departments
World-class doctors in one of the world's best hospitals
World-class hospitals are supported by outstanding physicians and nurses who provide top-quality medical care. The medical directors and specialists of Heidelberg University Hospital are presented with their specialties in a brochure that is available for you to download.
Download
Individual treatment offer
for International Patients
For our medical specialists to check if a treatment option / appointment is possible, submit your data here.
Subscribe to our Infoletter
With our infoletter for international partners and patients, we will inform you once a month about the latest news and special medical services offered by Heidelberg University Hospital via email.