Heidelberg Opthalmologist ranked 16 of the 100 most influential people in Ophthalmology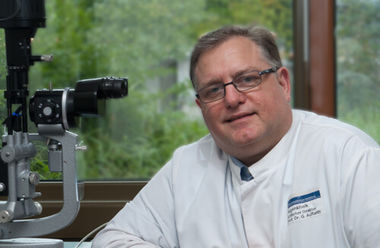 September 2014
Five German eye specialists ranked by the medical journal "The Ophthalmologist" / Professor Dr. Gerd Auffarth of Heidelberg University Hospital investigates new artificial lenses and the implementation of modern laser techniques in eye surgery
Professor Dr. Gerd Auffarth, Medical Director of Heidelberg University Hospital Department of Ophthalmology, is one of two German eye specialists ranked among the top 20 most influential people in ophthalmology worldwide, on the current ranking published by the medical journal "The Ophthalmologist." 100 renowned eye surgeons, scientists, engineers of medical technology, and industry representatives who have made important contributions to the field are listed.

Readers of the journal were given two months to submit nominations. An independent commission of experts then determined the top 100 candidates in three rounds, and ranked the top 20. The criteria were publications, lectures, surgical reputation as well as international research collaborations. The Heidelberg ophthalmologist was ranked position 16.

"This first global ranking is the 'Who's who' of ophthalmology, and is currently addressed and discussed at all of the large international congresses," said Professor Auffarth, who along with other representatives of Heidelberg University Hospital Department of Ophthalmology has been listed for years in the ranking of the top German physicians by the business magazine "Focus." "It is a special honor to be ranked so highly. This award applies to the entire ophthalmological team, which performs outstanding clinical and scientific work." This ranking reflects the international reputation of the Heidelberg University Hospital Department of Ophthalmology as well as the well-regarded commitment of its Medical Director to the areas of research, development, and patient care. In total, five German nationals were ranked in the top 100.