Surgical technology that inspires
at Heidelberg University Hospital's new Surgery Center
Medical technology enables patient care and professional workflows at the highest level. New devices, innovative software solutions, digital networking and the well-thought-out infrastructure will bring many improvements for our patients and employees," says Prof. Dr. Markus Büchler, Spokesman of the surgical University Center and Medical Director of the Department for General, Visceral and Transplant Surgery.
The new surgery center sets standards - especially when it comes to technical equipment: Approx. 6,000 medical devices are used there, most of which have been newly acquired. The core of the new building is the operating wing with 16 operating rooms, which will be digitally embedded in the clinic's medical and IT landscape. In addition, an integrated endoscopy concept will be implemented in six operating rooms and two operating rooms will be equipped as hybrid operating rooms.

Robot-assisted angiography system
Hybrid Operating Rooms at Heidelberg University Hospital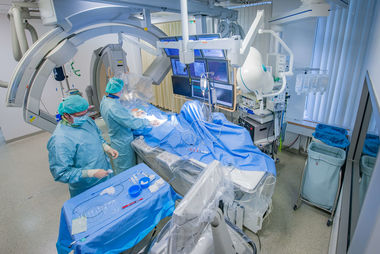 Two halls are equipped as hybrid operating rooms in which mainly vascular surgery is performed. "Hybrid" means that interventions in the operating room can be carried out both open and minimally invasive. The latest generation of a robot-assisted angiography system "Siemens Artis Pheno" is used for the X-ray-assisted 3-D representation of the blood vessels. The X-ray unit can be guided around the patient by robot during the procedure and, if necessary, delivers images in the quality of a computer tomograph. "This system is currently the ultimate in aortic surgery where, for example, a stent must be placed with millimeter precision. It supports us in navigation, opens up new intervention options and further reduces the surgical risk," explains Prof. Dr. Dittmar Böckler, Medical Director of the Department for Vascular and Endovascular Surgery.
Operating Rooms at Heidelberg University Hospital
A so-called cyber-physical medical technology concept was implemented in the operating rooms:
Medical technology devices are networked
Information and images from different sources are merged and displayed on several large-format directly in the field of vision of the surgeon and treating team. These include for example
High-resolution screens, e.g. radiological recordings from preliminary examinations
Patient data from the hospital information system or 3-D models of the operating area
This means that all currently relevant data can be viewed by the team without having to leave the sterile operating theater. The high-resolution display also supports the endoscopy concept integrated in six operating rooms: For minimally invasive interventions using laparoscopy or joint mirroring or directly through the urethra, a 3-D camera system provides excellent image data during the procedure, which is transmitted in large format to the screens.
Various functions, medical devices and room conditions can be centrally controlled via "touch-enabled" monitors. The surgeons can communicate audio-visually between the rooms within the hospital or with colleagues outside the operation rooms. This enables other specialists, if required, to be quickly involved in making important decisions and, through transmission to the lecture hall, provides valuable teaching services.
Picture gallery of Operating Rooms
at Heidelberg University Hospital