125 Years of Brain Surgery in Heidelberg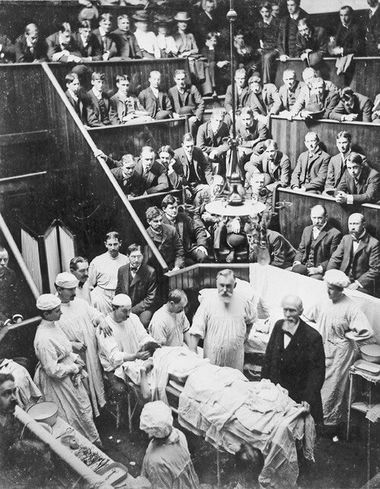 November 2015
Today, the neurosurgical department at Heidelberg University Hospital is one of the leading neurosurgical departments in Europe. More than 3.500 operations are performed annually. The department has four operating theaters with state-of-the-art equipment on their disposal. The specialized, experienced operating team and cutting-edge technical equipment guarantee maximum safety and efficiency, even for the most difficult operations.
Looking back – 125 years ago

On November 21, 1890, Vincenz Czerny, the renowned Heidelberg surgeon, removed a brain tumor below the skullcap for the first time in Germany – without an X-ray image or a sterile operating room, such as we are familiar with nowadays, and with only the simple anesthesia available at that time. He derived the site of the tumor from the restrictions of movement observed in the patient, and then opened the skull with a bone drill (trepan) and forceps. The operation was successful: The patient not only survived with significant improvement and without any restrictions of movement – in mid 1892, he is mentioned once again in Czerny's records with a third follow-up operation – and this surgical intervention had also restored his ability to work and thus allowed the patient to be reintegrated into society.

In November of this year, the Department of Neurosurgery at Heidelberg University Hospital celebrates its 50 years of existence. At the same time, the first successful brain tumor operation in Germany, performed by Vincenz Czerny in Heidelberg, has its 125th anniversary.

If operations of the brain were still highly risky in Czerny's time and thus rare interventions with uncertain outcomes, over the course of the 20th century, neurosurgery has established itself as a new and independent specialty. Some 75 years after Czerny's first brain tumor operation, the Medical Faculty at Heidelberg set up a chair of its own, which marked the hour of birth of today's University Department of Neurosurgery.

And today?

The most up-to-date procedures such as computer-guided neuro-navigation, stereotactic surgery, intra-operative magnetic resonance tomography, intra-operative computer tomography, intra-operative ultrasound, fluorescent tumor marking, and electrophysiological monitoring are used. All of these methods ensure maximally effective, minimally invasive neurosurgery while sparing important brain and nerve functions. Our experienced team treats around 12,000 patients and performs more than 3,500 operations per year.

One of our technical features, which only a few neurosurgical hospitals can offer, is intra-operative magnetic resonance therapy. The images taken are integrated directly into operation planning by our advanced neuro-navigation system, which allows us to check for the presence of residual tumor during the operation and simultaneously to guide neuro-navigation precisely in order to ensure the greatest possible success of the treatment.

The most suitable form of treatment for the individual patient depends on many factors. In Heidelberg, we make treatment recommendations for patients with brain tumors in the interdisciplinary tumor conference of the National Center for Tumor Diseases (NCT) in Heidelberg as part of a team of neurosurgeons, neuro-oncologists, neuroradiologists, radio-oncologists, neuropathologists, and oncologists.

When is one form of treatment superior? Where can it be meaningfully augmented? Can radiation with heavy ions for example, replace an operation? Such questions are discussed and the best possible decisions are made for patients. Diagnostic options and therapy are continually optimized and adapted to the latest medical standards in close interdisciplinary collaboration within the university hospital.
Further Information:
Department of Neurosurgery at Heidelberg University Hospital