With new prosthesis on the walking course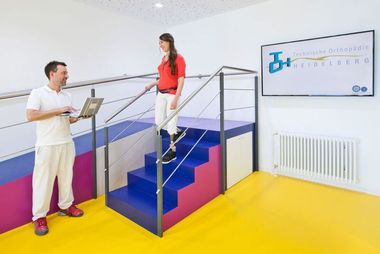 June 2015
Technical Orthopedics at Heidelberg University Hospital extensively expanded for 3.5 million / 5,000 patients from all over the world receive interdisciplinary care / Better patient service and optimal working conditions for employees
The expansion of Technical Orthopedics at Heidelberg University Hospital is completed. Thanks to an extensive renovation of the existing space as well as a new building, the Department of the Clinic for Orthopedics and Traumatology now offers significantly better conditions for patients and employees over approximately 1,500 square meters. The Heidelberg University Hospital invested 3.5 million Euros.
5,000 patients from all over the world receive interdisciplinary treatment
Each year, more than 5,000 patients are treated in this department, unique in Germany. Most patients come from across Germany, but also from other European countries, Asia, or Africa. With over 75 employees in six highly-specialized fields, Technical Orthopedics is the largest technical orthopedics department of any University hospital in Germany. It is exactly this connection to the University that makes the Heidelberg site so attractive. Here there is a treating team of doctors, technicians, physical and occupational therapists, psychologists, and social workers for patients. Technical orthopedics works closely in particular with pediatric orthopedics, the tumor outpatient clinic, and the spine clinic, and is also active in education and research. "This shows that we produce not only orthopedic aids – like prosthetics, orthotics, and corsets – but also interdisciplinary cooperation. Thus, we can find an individualized solution for each patient," explains the head of Technical Orthopedics,-Dipl.Ing Merkur Alimusaj.
Access to research, emphases in the field of movement analysis and the development of orthopedic aids
And what was renovated during the expansion? Patients and employees now enjoy a vastly improved structural layout. "Both sides benefit from more space, which is essential for individual care. Especially in the workshops or fitting areas, the space was slowly running out," says Alimusaj. The new reception area is bright and spacious. There are now 18 instead of 13 fitting rooms for prosthetics or orthotics. In the past, patients had to test new prosthetic legs outdoors, but there are now two specially-designed walking courses for this purpose. Here the patients can negotiate ramps, stairs, or other challenging surfaces, just as in real life.
Further Information:
Technical Orthopedics at Heidelberg University Hospital