Precision through laparoscopic 3D images
December 2015
Heidelberg University Women's Hospital uses a new 3D video laparoscopy system in keyhole surgery and offers surgery courses for physicians.
Heidelberg University Women's Hospital is already working with a new 3D video-laparoscopy system during keyhole operations. The intention is to use it mainly in the removal of benign and malign tumors, such as myomas in the lesser pelvis, as well as in the treatment of endometriosis (appearance of uterine mucus outside the uterus). A laparoscope is a special endoscope with a mini-camera and a light. It is introduced into the abdomen through tiny incisions of the skin. To date, surgeons were only able to see two-dimensional images with this device. With the new technology, surgeons can recognize fine anatomic structures in their spatial locations even better.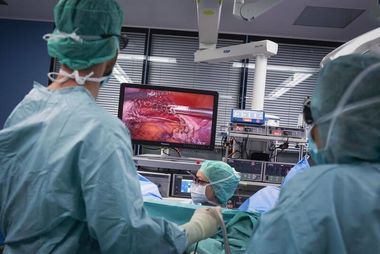 Vivid 3D images enable quicker and safer surgery
The 3D video laparoscope made by our cooperation partner, the Karl Storz Company in Tuttlingen, comprises two components. The laparoscope and the image 1 SPIES video unit. The first has two full HD sensors, which process the image in the camera control unit and then broadcast it to multiple monitors in the operating rooms in 3D. All of the parties wear so-called polarization glasses, such as the ones people see in the cinema. When looking at the monitor, the glasses generate the desired depth effect. "I am fascinated by the sharp and vivid live images from the inside of the body", says Prof. Dr. Christoph Sohn, Medical Director of Heidelberg University Women's Hospital enthusiastically.

Besides the already existing advantages of laparoscopic interventions - with comparatively little pain after the surgery and quick healing due to the tiny skin incisions - the vivid images of the patients provide even more security: "This new technology makes additional precision possible for us, which is very valuable in such a highly sensitive context", says Managing Senior Physician Dr. Markus Wallwiener. Surgeons can estimate the distances between organs and of the instruments to each other much more precisely. Wallwiener assumes that the 3D video laparoscope system will be in use daily in operations at the Heidelberg University Women's Hospital.

Surgery courses for physicians

Experts at Heidelberg University Women's Hospital organize surgical training for physicians. Surgeons can learn the required skills with the new technology on models.
Further Information:
Center for Gynecological Oncology at Heidelberg University Women's Hospital
Department of Gynecologic Endocrinology and Fertility Disorders at Heidelberg University Women's Hospital