Among the World's Leading Experts in Pancreatic Cancer
Surgery Center | 09.01.2019
The US Internet portal "Expertscape" ranked Professor Dr. Markus W. Büchler, Executive Director of Heidelberg University Hospital Department of Surgery and Director of the European Pancreas Center, third in the world among leading experts on pancreatic cancer. "We see rare diseases more often, and thus, have extensive experience with them," explains Professor Büchler. "This brings with it great surgical expertise for procedures that are rarely performed elsewhere." Heidelberg University Hospital is in the top ten of the "World's Top Institutions for Pancreatic Cancer."
According to Expertscape, the ranking uses the number and type of published articles in scientific journals as an objective measure of expertise for the "World's Top Experts in Pancreatic Cancer." In 2018, the list of "highly cited researchers" from online literature and citation database Web of Science already included the renowned surgeon Büchler. Unlike the Expertscape ranking, this score was not calculated based on the number of publications but rather on the frequency of citation - the frequency with which publications are cited within the publications of peers. This is considered an important indicator of the scientific influence of an article. The ranking within the two independent evaluations shows not only the active and successful research capability of the Heidelberg surgeons under Büchler's leadership, but also the high quality and clinical relevance of their results.
Expertscape also ranked Heidelberg University Hospital in the top ten facilities treating pancreatic cancer worldwide. "The current ranking underscores the excellent research status of the Department of Surgery at Heidelberg University Hospital, according to global comparison," says Professor Büchler. "It's recognition for the clinical and scientific achievements of the entire team."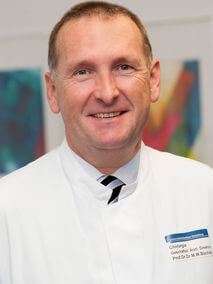 Focus
Pankreas, Leber-, GIT- und Transplantations-Chirurgie
Further Information