More than 30 years of stem cell transplants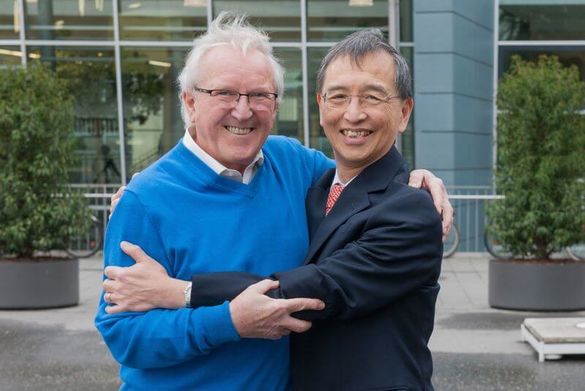 March 2016
More than 30 years ago, the first patient at Heidelberg University Hospital was treated with stem cells from his own blood, one of the first stem cell transplants worldwide at the time. Today, Heidelberg is one of the largest centers of this kind in the world, with over 300 transplants per year.
Against this background, an international symposium was held in Heidelberg recently under the motto of "Stem Cell Transplants – Facts and Myths": Experts from the USA, Japan, China, Israel, and Europe presented their latest research results.

Moreover, Sebastian Gärtner, who received the first stem cell transplant at Heidelberg in 1985, was a guest. Today he is 69 years old; his cancer has been cured since the transplant. "Mr. Gärtner is in the best of health. I am especially pleased that he is able to participate in this celebration and is going to report on his treatment", said Professor Anthony D. Ho, Medical Director of the Department for Hematology, Oncology and Rheumatology at Heidelberg University Hospital.

Genetic change turns the patient's own immune cells into cancer hunters

"In stem cell research, we are still at the beginning of a long journey. There is a lot that we still do not know. This must be clearly stated, in order to prevent unrealistic hopes", stated Ho, an internationally renowned stem cell expert. Many of the research results discussed at the symposium revolved around questions related to how stem cells function on a molecular level, how they steer themselves, and thus can be used in the treatment of various diseases. Although there are numerous promising therapy approaches, most of them lie in the future. The situation is different for a cell therapy that was recently developed in the USA to treat different types of lymphatic leukemia and lymphomas. Although it does not use stem cells, yet it does take advantage of the knowledge gained from stem cell research and transplants. It is only available in the USA to date and for patients who no longer respond to the usual treatment – chemotherapy and stem cell transplants.

"For about 90 percent of the patients with aggressive lymphomas, the cancer can be pushed back with this therapy", explains Ho. "We hope to be able to offer this treatment next year, as one of the first German centers in Heidelberg to do so." Certain immune cells of the patient, the so-called killer cells, are collected from the blood, genetically changed (CAR-T-cells) and reintroduced into the patient. These T-cells become the body's own cancer-cell hunters due to this genetic manipulation.

Stem-cell research is an important focus at Heidelberg University Hospital

Stem cell research is an important focus at Heidelberg University Hospital. In 2010, the German Research Foundation (DFG) established a collaborative research area (SFB) called "Self-renewal and differentiation of stem cells" at the University, Heidelberg University Hospital and the German Cancer Research Center. The funding volume comprises 9.3 million euros per funding period of four years each; Founding spokesman of the SFB is Professor Ho (2010-2014); spokesman for the 2nd period is Professor Jan Lohmann, Center for Organismal Studies at Heidelberg University (2014-2018).
Further Information:
Department of Hematology, Oncology and Rheumatology at Heidelberg University Hospital