New building for a major German lung clinic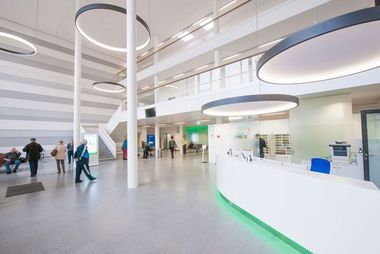 October 2015
The new Thoraxklinik building in Heidelberg comprises a tract of four operating rooms with the latest technical equipment, a highly specialized intensive-care unit with 16 beds, one of the most modern weaning centers (pneumological ICU) in Germany, as well as newly designed functional areas and the new foyer to this clinic.
With 310 beds and 750 employees, Thoraxklinik is one of the largest lung clinics in Germany. Every year about 10,500 inpatient and 22,500 outpatient cases are treated and ca. 2,300 lung operations are performed. "We are pleased to be able to ensure high-level patient care in the region and beyond with this investment", said Roland Fank, Commercial Director of Thoraxklinik.

"High-quality medicine requires a modern infrastructure and modern equipment"

"High-quality medicine requires a modern infrastructure and modern equipment", says Univ. Prof. Dr. Felix Herth, Medical Director of Thoraxklinik. More than 30 million euros have been invested in the modernization of this clinic. This makes patient care on a very high level possible. Heidelberg University Hospital Commercial Director Irmtraut Gürkan pointed out that over the past four years the functional building from the year 1983 was comprehensively refurbished and expanded in several construction phases while it was business as usual. Since 2011, Thoraxklinik Heidelberg has been a wholly owned subsidiary of Heidelberg University Hospital, which has added to its range with this specialized lung clinic.

The number of patients, including older patients, is rising. New possibilities for diagnosis and treatment have expanded the spectrum of pulmonary diseases at the clinic. Thoraxklinik Heidelberg has made this investment in order to be able to perform interventions without long waiting periods for patients. Consequently, the number of ICU capacities has also been significantly increased, thus making optimal patient care possible at all times. One special advantage is the close spatial and organizational dovetailing of operating rooms, the ICU, the weaning unit, and central sterilization.

The construction measures on the functional building began in June of 2011. A generous projecting roof and the glass façade with a vestibule invite people to enter the clinic. The new functional building offers usable space of 3,800 square meters with a ground area of 52 x 32 meters on three top floors. On three floors, the new hall links this building with the adjacent building with patient rooms. Operating rooms, ICUs, a sterilization department and a clinic pharmacy were partly put into operation in June 2013 during the first stage of construction; the new foyer and the second phase of construction were completed by October 1, 2015.
Further Information: