Sleep better during radiation therapy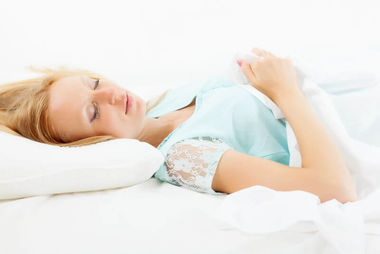 February 2018
According to one study, physical strength-training helps improve the sleep quality of breast cancer patients during radiation therapy.
Breast cancer patients often suffer from sleep problems during and/or after cancer treatment. This causes significant impairment to quality of life. In addition, there are correlations between sleep problems and fatigue, anxiety and depression. Few effective strategies are recognized.
In a randomized, clinical study of 160 patients, researchers led by Karen Steindorf of the DKFZ and NCT investigated the effects of a 12-week strength-training program on sleep quality compared to relaxation-training for breast cancer patients undergoing radiotherapy. Results published in the medical journal Breast Cancer Research and Treatment showed significantly more favorable results for the patients in the strength-training program. Strength-training proved to be effective in reducing sleep problems for breast cancer patients undergoing radiation therapy. Thus, results of earlier but mostly smaller studies were confirmed. Sleep problems also improved similarly in a comparison control group of healthy women completing the strength-training program. However, they had overall fewer sleep problems than the breast cancer patients. In addition, the researchers identified further parameters for sleep disturbances. For example, patients had more sleep disturbances if radiotherapy preceded chemotherapy, or if they had a higher body mass index. "Treating sleep problems is considered one of the most rapid and effective ways to improve quality of life and health in breast cancer patients. For this reason, our results overall are of great importance for many patients and their medical and physical therapy," said Steindorf.
Further information:
National Center for Tumor Diseases (NCT)
Breast Center at Heidelberg University Hospital