Neurosurgery: Everything at a glance and in 3D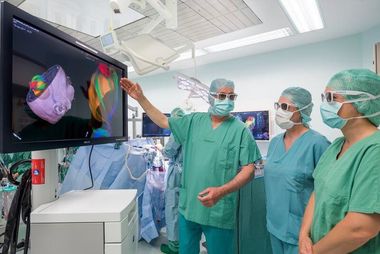 August 2017
The Department of Neurosurgery converts to a digital OR management system. Data networking within the operating room enables further improvements in brain surgery.
Neurosurgeons rely on a variety of imaging and measurement data to keep brain incisions precise, tumor removal as complete as possible, and nerve connections intact. To consolidate this data and make it more accessible to the surgeons, the Department of Neurosurgery at Heidelberg University Hospital has converted to a digital OR management system (BUZZ) combined with a 3D-HD system (TRENION). With BUZZ, data from magnetic resonance and computed tomography imaging and various intraoperative measurements, e.g. cranial nerve electrophysiology, can be downloaded in any desired combination - "picture in picture" - together on a large-screen monitor in the operating room. The TRENION system presents a virtual 3D OR planning model and the three-dimensional transmission from the OR microscope to a large 3D monitor. The Dietmar Hopp Foundation supported the equipping of four operating rooms with the integrative OR management system, including the mobile 3D-HD system, with a donation of 570,000 Euros.
"The digital networking of various imaging data provides fascinating and very precise insight into the human brain. We are pleased to facilitate the work of neurosurgeons and to increase the safety of patients with our commitment," says Katrin Tönshoff, Secretary of the Dietmar Hopp Foundation.
Complex organ requires absolute precision in neurosurgical procedures
For brain tumor operations, even more so than for operations on other organs, absolute precision, careful preoperative planning, and close intraoperative monitoring of brain functions are vital. Prior to now, images from various devices were each represented on their individual, smaller monitors, e.g. pictures from the OR microscope, CT and MR images, neuro-navigation, as well as electrophysiological measurements checking nerve activity. The surgeon is unable to view them all simultaneously. The new integrated OR system is something else. With BUZZ, all imaging and measurements as well as intraoperative microscope views are displayed in parallel and partly consolidated. The surgical microscopes can be connected to the TRENION system. Thus, the 3D representation of the complex brain anatomy, previously only visible to the surgeon, can now be transmitted onto a large 3D observation monitor during surgery and is visible with 3D glasses for the entire operative team.
"Particularly for the assistants, the three dimensional view of the surgery provided an "Aha" experience, making much of the sequence more understandable. This provides very positive effects on cooperation as well as education and training. Because the entire team sees more, everyone involved can follow along better and respond more quickly," explains Professor Dr. Andreas Unterberg, Medical Director of the University's Department of Neurosurgery. "Previously, we had something like a puzzle, while the new system shows us the complete picture."
The Department of Neurosurgery at Heidelberg University Hospital is one of Europe's leading neurosurgical centers. Each year, some 12,000 patients are treated and more than 3,500 operations are performed.
Further Information:
Department of Neurosurgery at Heidelberg University Hospital