New Hybrid OR for gentler Heart Operations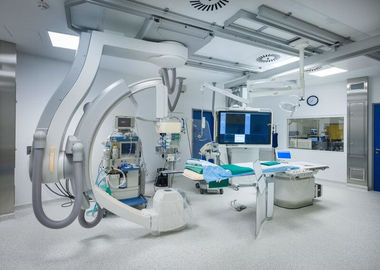 February 2016
The recently inaugurated Hybrid OR provides the best conditions for minimally invasive heart valve replacement. Over 1,000 aortic valves have already been implanted.
Patients who need an artificial heart valve can benefit from a minimally invasive surgical procedure at Heidelberg University Hospital. Physicians use a catheter in the groin to bring the new heart valve to the heart. The German Society for Cardiology has now certified the University Hospital for Cardiology, Angiology and Pneumology as a transcatheter aortic valve implantation center (TAVI Center). Hospitals that care for their patients in accordance with prescribed high-quality criteria with very experienced interdisciplinary treatment teams receive this seal of approval. The new, ultra-modern hybrid OR, which the hospital recently put into service, offers the best conditions for these so-called transcatheter aortic value implantations (TAVI). It combines the hygienic and technical standards of a cardiac surgery operating room with an angiography unit. Thanks to the high-resolution X-ray images supplied by the angiography unit, physicians can precisely control the path of the heart value and its placement and thus increase patient safety.

"The new hybrid OR is another step towards designing our patient care to be modern, flexible and comprehensive", says Professor Dr. Hugo Katus, Medical Director of the Hospital for Cardiology, Angiology and Pneumology and spokesman of the Center for Internal Medicine. "High-risk patients in particular benefit from the less invasive treatment used in the hybrid OR," emphasizes Professor Katus. As a rule, patients recover more quickly than after a more extensive operation and can be discharged to their homes earlier. Before technical innovations made these minimally invasive interventions possible, every patient had to undergo a major operation for a new heart valve. In the past, patients had to be attached to a heart-lung machine and their ribcage had to be opened. "By the end of 2015, we were able to successfully perform our 1000th aortic value implantation through the artery in the groin", reports Professor Dr. Raffi Bekeredjian, Head of the Aortic Valve Team and of the Heart Catheter Lab, Hospital for Cardiology, Angiology and Pneumology.

Modern equipment reduces the exposure to X-rays

The most important criterion for the certification by the German Society for Cardiology is the interdisciplinary collaboration: Cardiologists, heart surgeons, angiologists and anesthesiologists work together in the hybrid OP room. Heidelberg University Hospital began to focus on these innovative procedures and the close collaboration between disciplines and in 2010, the first hybrid OR went into service at the Department of Surgery. The opening of the second OR launched the complete renovation of all heart catheter facilities at Heidelberg University Hospital, which are going to be completed this month. "Therefore, we enable our patients to have the highest quality treatment and reduce their exposure to X-rays by using modern equipment", asserts Professor Dr. Hugo Katus.
Further information:
Department of Cardiology at Heidelberg University Hospital