Second opinion online & video consultation
For international patients at the Department of Hematology, Oncology and Rheumatology
An independent second opinion will give you more confidence when facing a serious illness. The experience and expertise of our renowned Department of Hematology, Oncology and Rheumatology contribute access to a targeted and individual therapy.
It will not be necessary to repeat the diagnostic procedure to obtain a second opinion. Whether you opt for a written report or an advice via video consultation, you can easily access an expert opinion from the comfort of your own home – based on your medical report.
We can provide an informed and objective assessment decision within days.
Our claim is to make excellent medical care accessible to everyone – personalized and based on cutting-edge research.
Your contact
Patient Case Management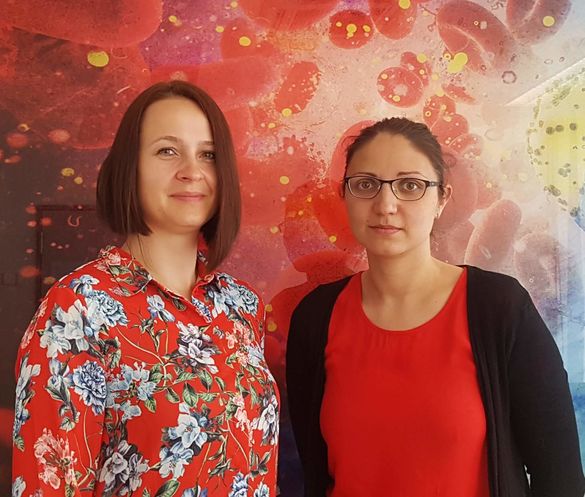 Magdalena Kasperkiewicz-Labuz | Sandra Zink
Note: the service is not available for United States (US) and Canadian citizens
Click for Online Consultation
Your benefits
Second opinion online at the Department of Hematology, Oncology and Rheumatology

A face-to-face conversation with a renowned expert
When facing a serious illness, there may be a need for further explanation or clarification that goes beyond a written report. Our experts at the Department for Hematology, Oncology and Rheumatology review your diagnosis and help you to decide on a plan via video consultation.
In a personal doctor-patient discussion, we focus on your individual situation and make a recommendation - face-to-face. The video consultation is embedded in our expertise and enables us to provide the latest research findings for international patients.


---
Our treatment concepts
Medicine at the highest level
The Department of Hematology, Oncology and Rheumatology is one of the largest and most prestigious centers. The integration of clinical care and research leads to best possible treatments. As part of our clinical studies we develop new medications and innovative, promising therapeutic concepts. Rapid progress in hematological research promotes tailored made-to-measure treatments for the benefit of our patients.
Here you can find model cases of therapy options.

Healing through groundbreaking research
The Ruprecht-Karls-University is Germany`s oldest university and today`s University of Excellence. The Heidelberg University Hospital is committed to this tradition by cutting-edge research. The research location Heidelberg with a network of internationally renowned institutes such as the German Cancer Research Center (DKFZ), the European Molecular Biology Laboratory or four Max Planck Institutes combine a highly specialized expertise. This network accelerates the development based on the latest progress across disciplines and locations.
Five doctors from the Departement of Hematology, Oncology and Rheumatology are listed among the top doctors in Germany in the well-known "Focus" doctor list 2020.
More information about the Department of Hematology, Oncology and Rheumatology at the UKHD
Newsweek – World`s Best Specialty Hospitals 2021 – Oncology
Newsweek recognized the Department of hematology, oncology and rheumatology at Heidelberg University Hospital as one of the world`s top 25 clinics in the field of oncology in 2021. The magazine focusses on best patients`diagnostics, most effective therapies and best care worldwide. We cooperate with other clinics and institutes at the Heidelberg University Hospital and at the National Center of Tumor Diseases (NCT). This is how, we guarantee the best possible care for our patients.
We take this internationally recognized ranking as an award for our expertise.
Cost breakdown
Basic second opinion

Written report after rewiewing the patient file

500 EURO

Second opinion with video consultation

Video consultation followed by a written report

700 EURO

Additionally (if applicable):
Interdisciplinary discussion in the Tumor Board

Exchange in a panel of experts

250 EURO

Translation of documents

(if documents are not sent in German or English)

180 EURO
---
FAQ on video consultation
WE HAVE COLLECTED ALL THE ANSWERS TO FREQUENTLY ASKED QUESTIONS FOR YOU
DO I NEED TO INSTALL SPECIAL SOFTWARE?
No, don`t worry, you don`t have to. All you need is a smartphone or laptop/PC/tablet and a webcam and internet connection. A special software is not required. The video consultation takes place in your browser. After login you will automatically be supported in setting up your camera and microphone.
Of course, the security of your health data is our top priority. We meet all legal requirements and do not process any data that is exchanged during the video consultation. Your video consultation is just as confidential as your personal visit to the doctor and is subject to the highest German data protection standards.
MAY A FAMILY MEMBER JOIN THE VIDEO CONSULTATION?
Yes, on condition that you introduced all persons present. The doctor has to be aware about every person attending the video consultation.
May I RECORD THE VIDEO HOURS?
No, it is illegal to record a video consultation.
---
Consult Doctor Online here!
Contact us for further questions