Recognized in Minimally Invasive Surgery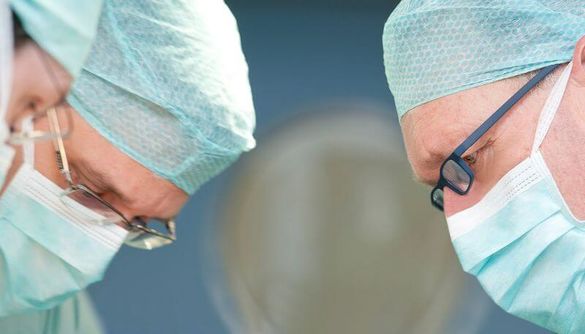 October 2016
Heidelberg University Hospital Department of Surgery fulfills high quality standards and is one of three centers certified as excellent in all Germany.
Around 40 percent of all operations at the Department of General, Visceral and Transplantation Surgery at Heidelberg University Hospital are minimally invasive, using so-called "keyhole surgery," performed for a range of procedures from gallbladder surgery to very complex tumor operations on the esophagus and pancreas. This expertise convinced the German Society of General and Visceral Surgery (DGAV). After a thorough review of case variety, treatment quality, team experience, and technical facilities, among other things, it has now recognized the clinic as a "Center of Excellence for Minimally Invasive Surgery" -- together with partner clinics Salem Hospital and GRN Clinic Sinsheim, whose surgical departments are under the medical leadership of Professor Markus W. Büchler, Managing Director of Heidelberg University Hospital Department of Surgery. Together, these departments cover the entire spectrum of minimally invasive surgery (MIS). In addition to a minimum case number of various, sometimes very complex procedures, the most important criteria for certification were high quality standards, the offer for further comprehensive training in a specialized training center, as well as outstanding research in the context of large studies.

Recognition as a center of excellence is the third and highest level of certification of the DGAV. It is reserved for leaders of the field and the largest facilities. There are only three certified centers of excellence across all Germany.

Even major cancer operations of the esophagus, stomach, pancreas, and liver are possible through small incisions.

In MIS, the use of special instruments enables surgery through small abdominal incisions and eliminates the need for large incisions. Compared to typical surgical methods, this technique offers many advantages for patients. Surgical blood loss is minimal. Patients have less pain, often recover more rapidly, and can thus go home sooner. Wound infections and incisional hernias occur less frequently. The use of minimally invasive techniques is dependent on the individual patient and clinical situation, but also on the experience of the surgeon.

"In most surgical sub-specialties, the current trend is toward less-taxing, minimally invasive procedures. Today, in specialized centers like Heidelberg University Hospital and its cooperating partners, certain operations are performed almost exclusively using minimally invasive techniques," explains Professor Dr. Beat Müller, Director of the Section for Minimally Invasive and Obesity Surgery at Heidelberg University Hospital Department of Surgery. These include not only procedures on the gallbladder or for esophageal reflux disease, but procedures for appendicitis, hernia, and stomach reduction, as well as gastric bypass operations for extreme obesity. "In the future, minimally invasive surgery will become more important even with malignancies such as esophageal, pancreatic, and colorectal cancer. In principle, we can already operate laparoscopically on almost every tumor, as long as it hasn't spread," said Müller.

For this purpose, the team of Professor Müller has specially-equipped, ultramodern operating rooms available as well as one of the best equipped training centers in Germany with a computer simulator. "These interventions are extremely demanding, for which the entire team must be specially trained," explains Müller. Students can also receive initial experience with the instruments here. Courses on special techniques are offered to external colleagues.
Further information:
All departments of Heidelberg University Hospital